How to Bypass PDF permissions on Win 10 and Mac OS
Bypass PDF Restrictions without the Password
PDF is a popular format used by most people to send information. This is because it cannot easily be edited or modified. While this may seem like the best thing, what then happens when you need to change a PDF file? It is almost impossible to bypass PDF permission on a PDF file, but you can use the PDF Password Remover.

PDF Password Remover is a third party application specially designed for Windows and MAC OS users. Another case where this software comes in handy is when you forget the password to your PDF files. When that happens, don't panic. You can use PDF Password Remover to decrypt the file, thereby removing the password. Also, you can use it when you download a PDF file from the internet, and it is password protected. You can do this in a few simple steps;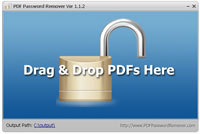 1. Download and Install the desktop version of PDF Password Remover on your MAC OS or windows.
2. Run it on your computer.
3. Select and open the PDF file which you want to decrypt and let it run.
4. Automatically the tool would save the file, which has been decrypted in your desired folder.

Note that PDF Password Remover also supports batch mode. Now you don't have to select your files one by one manually, and you can quickly select them all at a go. And then PDF Password Remover decrypts all at once. When you drag and drop multiple files in PDF Password Remover software, it decodes them in batch mode.

The program can also be used to unlock a secured PDF file. When a file is secured, and you don't have the owner's password, PDF Password Remover does the work for you.

PDF Password Remover doesn't just help you bypass PDF permission but also allows you to perform a wide range of operations with the files. You can choose to print it out, convert it to another file format or even modify the contents.

In any case, where you don't have enough storage space on your PC, you can download the software in the form of a zip file. Then you can save it to your flash drive, and run it whenever you need to.

To unlock any PDF file using PDF Password Remover is still the same steps as mentioned above to decrypt a PDF file. When you get that password-protected warning before opening a PDF file, it can be annoying and frustrating. But you can use PDF Password Remover to rectify this. It is important to note that PDF files that come with the user password cannot be unlocked using this software. If it is protected on other normal levels, then PDF Password Remover is the best guy for the job.


There are so many reasons as to why you should opt for PDF Password Remover


1. You can use it to copy and paste PDF files which have permissions restricting such act. Understandably, the essence of this is to ensure protection. But there are also cases when you have a legitimate file that has such restriction. You can use PDF Password Remover to bypass such restrictions. PDF Password Remover is the ultimate tool because now you can save valuable time by copying and pasting, instead of manually typing the document.

2. It is available for both Mac OS and Windows (Win 10, Win 7, Win 8, Vista, XP an Server) users. It's no news that most users fall majorly in this platform, making it convenient for almost everyone.

3. It doesnĄ¯t occupy too much space like other PDF password remover software. And in case you feel it is still taking up too much storage space. You can download the zip file into a flash drive and use it on multiple platforms.