How to Print Secured PDF Files
Unlock All of your Secured PDFs and Print
Looking to print some secured PDF documents but being blocked by PDF permissions and restrictions? Well, PDF Password Remover can help you out there.

PDF Password Remover works by removing the owner password lock on a PDF after which, you can easily proceed to print your documents. The tool is loaded with tons of features, thereby ensuring you can get your work done without any hassles at all.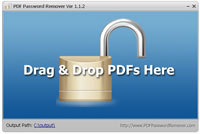 Features of PDF Password Remover
- Usability of Batch Mode
You'll no longer have to put yourself through the ordeal of selecting each file and decrypting it individually. With Batch Mode, you can decrypt as many files as you'd like without wasting time.

- Supported By Various Platforms
Both Windows and Mac OS support this tool. Therefore, users of both platforms can derive benefits from this tool.

- Conversion of PDF to Other Formats is Possible
After removing the restrictions and permissions from a PDF, you can then convert the PDF file to other formats like Word and images for modification of the document.

- Content Can Be Copied From a PDF for Editing Purposes
You can now copy the content to other word processors without edit restrictions.

Thanks to PDF Password Remover's army of features, unlocking passwords has never been so easy. Now, you'll never have to worry about wasting time typing in those irritating passwords.


How to Print a Secured PDF by PDF Password Remover
Follow these simple steps and you'll soon become a pro in PDF password removal and printing.


Step 1: Download the Software Application
These days, the Internet is full of useless tools that promise to get you the job done, but seldom do so. Most of the time, they're filled with annoying spyware/adware codes that can cause severe damage to your system. Avoid this by downloading only authorized versions of PDF Password Remover from the
official website
and stay safe.
Step 2: Run the Tool
PDF Password Remover
creators have simplified procedures for this tool. Therefore, the installation gets over in a moment's notice. You won't have to spend eons gazing at the monitor wondering when it'll be over. Simply run the .exe file and you're good to go.
Step 3: Load and Unlock Secured PDF Files
Once the setup is done, simply select your PDF files that you need to be decrypted and drag and drop to the application. Once that's done, the tool will automatically begin its operations. If the PDF document has a user password, you may be prompted to enter a user password, which is vital for the smooth running of operations. In all such cases, simply enter the required password to resume the operations.
Step 4: Print the Decrypted PDF Files
And now you're ready for the final step. After the PDF decryption has been done, the feature allowing you to initiate printing of documents should be active. Simply click on this, ensure your computer is hooked up to a suitable printer as well, and you can start to print out all unlocked secured PDF files.
With such a simple overall process, you'll never have to worry about finding another tool. PDF Password Remover will become your go-to champion for unlocking and
printing password-protected secured PDF files
soon.